Weihai City is located in the east end of Shandong Peninsula.It has clear seasons and delightful weather; its environmental quality indexes, such as atmosphere quality, water quality and noises, are all up to the standards of China,which is the first "State Clean City", also the "State Gardens City" and "Model City in Environment Protection", a good place for tourism, summer vacation and health recuperation.
Weihai has beautiful surroundings with mountain and sea, and many relics. Its cleanliness and pleasant weather attract a lot of tourists and is a famous tourist city. In 1997, this city has received tourists from home and abroad up to 4.48 million and 80,000 million person-time respectively, ranking first in Shandong province. There are over tens of scenic spots in the city, of which Liugong Island (liú gōng dǎo 刘公岛) with many State's protected relics in memory of the Sino-Japanese War of 1894-1895. Chengshantou (chéng shān tóu 成山头) named as "The end of the sky" has a beautiful landscape, where the emperors of Qin and Han Dynasties visited and is the scenic spot at the State level. The scenic spot of Tiechashan (tiě chá shān 铁槎山) is the birthplace of Quanzhenism (quán zhēn jiāo 全真教) branch of Taoism, and have many relics. Rongcheng Swan Lake (róng chéng tiān é hú 荣成天鹅湖) is the largest winter habitat of swans in northern China. There are rich underground spring and more than 70 of natural sea bathing places, and also built four province-class tourist resorts, including Huancui (huán cuì 环翠), Rushan Beach (rǔ shān hǎi tān 乳山海滩), Shidao Bay (shí dǎo wān 石岛湾) of Rongcheng and Swan Lake. There are 56 hotels (one four-star, eleven three-star and seven two-star) with over 9,000 beds. The three cities and one district under its jurisdiction all have star hotels and 18 travel agencies including three international agencies and 15 domestic agencies.
Liugong Island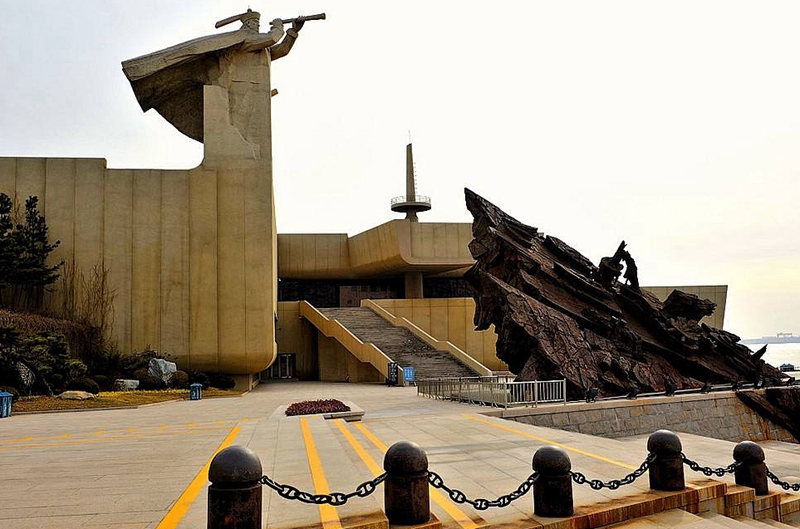 Liugong Island at the mouth of Granville Gulf, from the pier 2.1 sea miles of urban tourism, travel by boat 20 minutes to reach the sky Shuiyun it faces the Yellow River, back to the azure blue Granville Gulf, known as "Upper Ping Fan" and "Shen warships "Said.
Liugong Island North alleviate the steep South, East and West of 4.08 km, 1.5 km north and south of the wide, the narrowest 0.06 km, 14.95 km long coastline, the area of 3.15 square kilometers, the highest mountain top flag 153.5 meters above sea level 10,000 are Island East blue sea, Yanbo Hao-miao. Island West and the urban areas across the sea. Island vegetation lush, green, black pine mainly up to more than 2,700 acres, was named the 1985 National Forest Park. Liugong Island in 1999 by the Ministry of Construction called "national scenic areas of civilization Liugong Island is the state AAAA-class scenic area. China Sino-Japanese War Museum, Liugong Island Bolan Yuan, the 1894 naval clash Museum, Liugong Island National Park, Liu Gong miao, and other attractions for marine natural barrier, in national defense on an extremely important position.
Swan Lake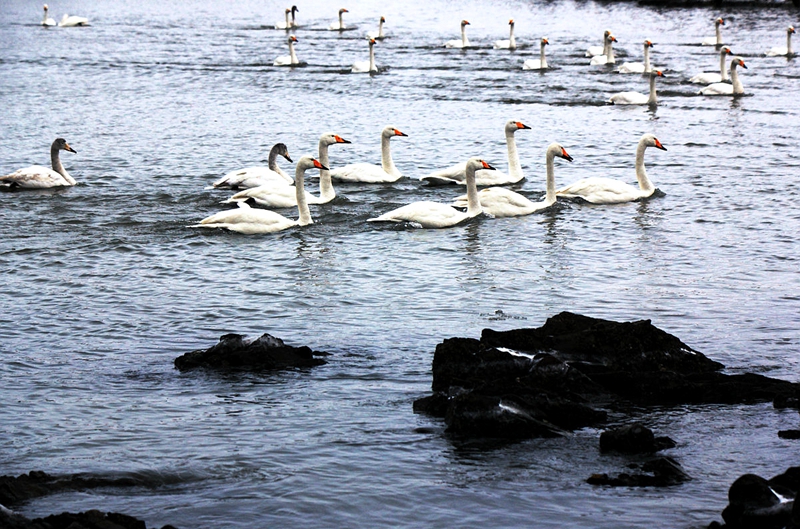 In Rongcheng Swan Lake tourism holiday resort, there is the world's largest swan's habitat—Cheng Shanwei (chéng shān wèi 成山卫) Swan Lake which has clean water, gold beach and blue sky with delightful climate.
weihai swan lakeEvery year, from November to April, thousands of swans, wild ducks and wild goose from Siberia and Inner Mongolia come to spend the winter. It is well named as the Eastern Kingdom of Swans. A sand dam of 100m wide isolates the lake and sea, forming thousands of sea and sand bathing places.
The sea recreation company, large casino and horse race grounds have been built, which makes a modern holiday resort combining tourism, relaxing, vacation and recreation.
According to the legend, the tears of the first emperor's wife of Qin Dynasty made the Swan Lake; the swan was the embodiment of the wife's soul. A long time ago, in order to seek immortal medicine of long life, Qin emperor recruited workmen to fill the sea and build a bridge, and ordered his wife to send meals when hearing the sound of gonging. One day, it was still early to send meals. However, due to the ramping of dung beetles, the gong sounded, the wife hurried to send meals. The emperor saw that his wife violated his order and was very angry, so he killed his wife. She felt injustice; her tears collected a river called Tears Lake. People could not forget her and wanted to bring her pure soul to the world. Therefore, countless big swans fell to the ground from sky.
The Chengshantou Cliff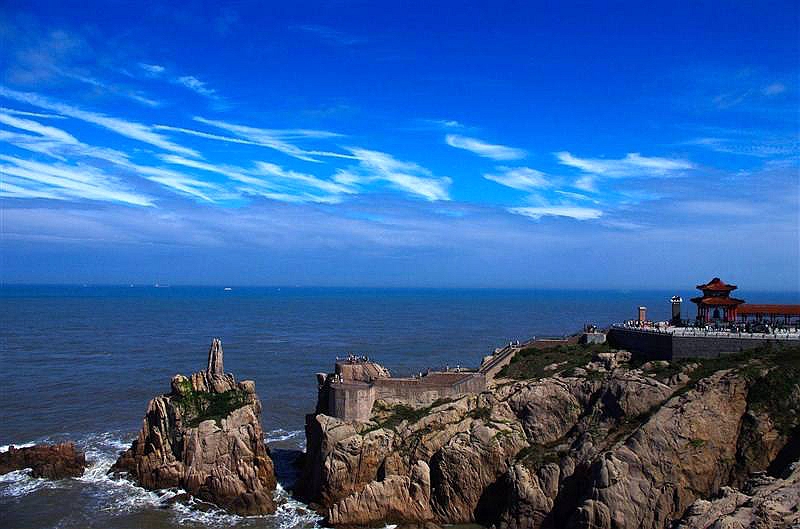 The Chengshantou Cliff ("Cape of Chengshantou") at Rongcheng is located at the tip of the northeast end of Weihai of Shandong as well as China. Here you will find the first glimpse of sunrise in all of China. The view of deep cliffs, a light house and the seaward baseline marker of China are breath taking. Upon China
'
s unification for the first time in 220 BC, the first Emperor, Qin Shi Huang visited here twice (219 BC and 210 BC), for the sole purpose of seeking medicine of eternal living. He was stopped by the sea. To his dismay, he burned a bridge built to extend to his journey. We still can see four bridge pillars left. Come and gaze off those cliffs at Chengshantou. Enjoy the opportunity to capture the photos of strong waves clashing against the cliff side.
Weihai Tianmu Hot Spring Resort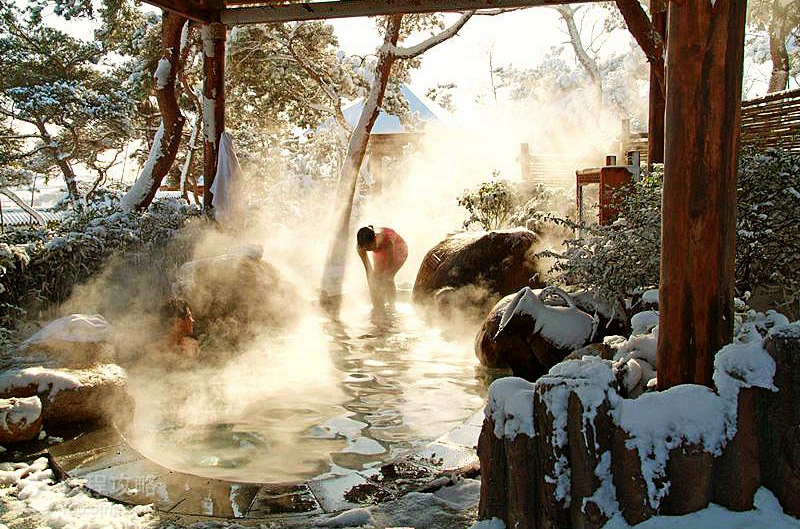 Weihai Tianmu Hot Spring Resort is located in the eastern end of Jiaodong Peninsula, south of the Yellow Sea, across the sea from Korea and Japan, 6 kilometers from the center of Wendeng City, 10 kilometers from Wendeng Railway Station, 15 kilometers from Weihai International Airport and 48 kilometers from Weihai Port. The transportation is very convenient and the location advantage is obvious.
Weihai Tianmu Hot Spring Resort is a five-star hot spring resort invested by Zhuhai Tianmu Group in Zhangjiachan Town, Wendeng City, Weihai. Mainly for Weiwei, tobacco, Qinghe, Korea, Japan and Russia at home and abroad. Therefore, "bathing forest hot springs, living in hydrophilic rooms, eating green food, breathing fresh air" as the main features, Jiaodong area is the most competitive and potential hot spring health recreation resort.